Access protection for events
What barrier systems are there and how do you use them?
There exists a wide variety of barrier systems for mobile access protection – and that's a good thing. Because in most cases, a single system cannot meet all requirements. Here you can find out which barriers offer sufficient protection in which situation and which barriers are rather unsuitable.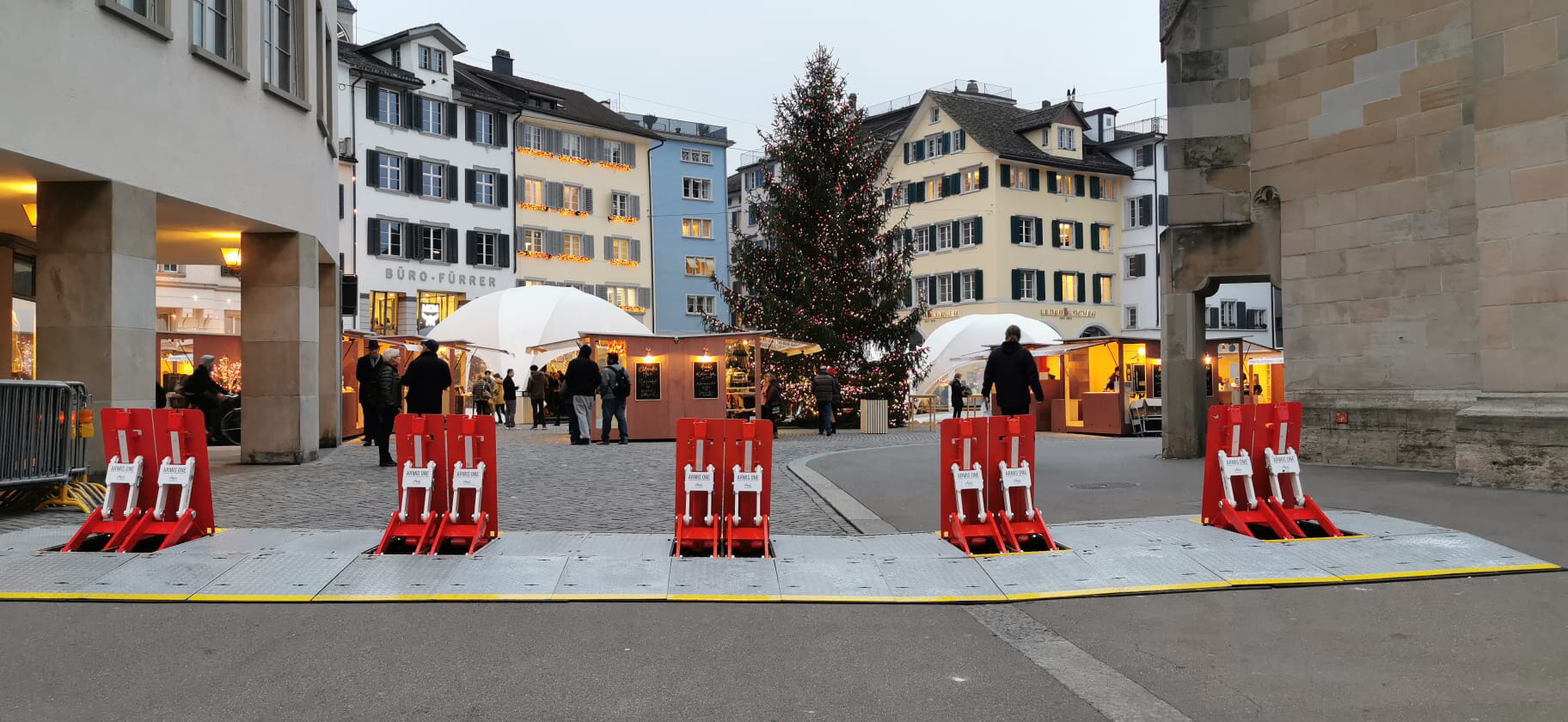 Protection against vehicle crossings
The temporary protection of village fairs, festivals or Christmas markets against vehicle crossings is a very special challenge.
Mobile protection systems need to be flexible and offer the highest possible level of protection without being permanently anchored to the ground. How well a barrier works, however, depends on various factors: Type of structure, subsoil, and local conditions.
Access protection concepts
The preparation of a detailed access protection concept by security consultants or access protection experts facilitates the selection of suitable systems.
Do you have any questions?
Our sales team is at your disposal for a personal, free consultation: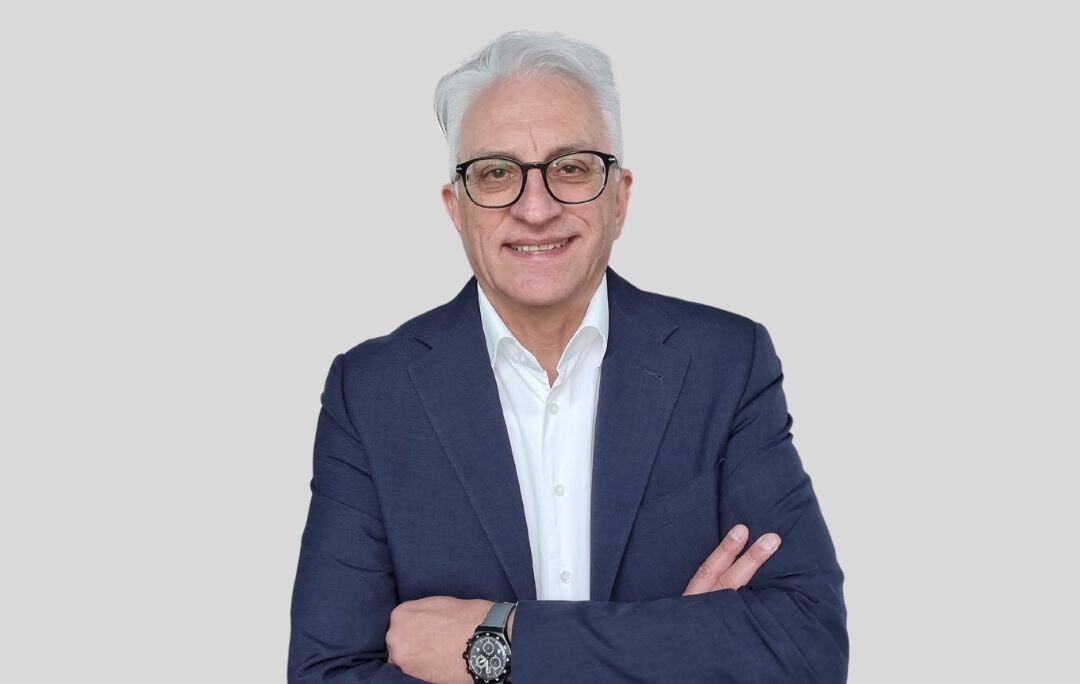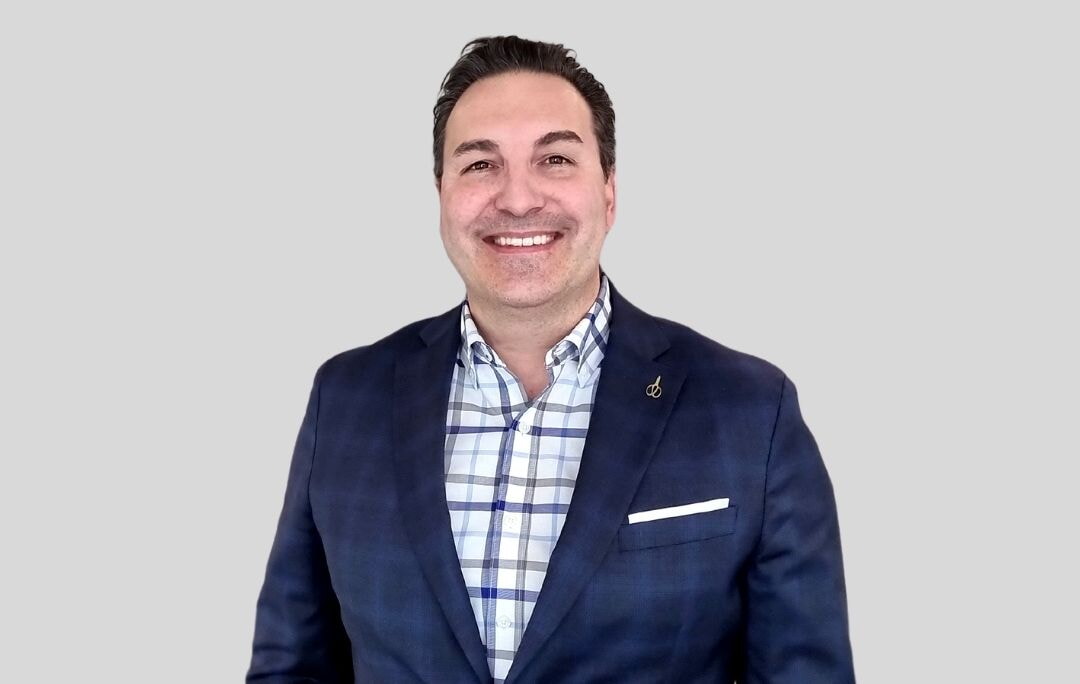 Blocking off according to the "multi-layer principle" (Onion principle)
Look over the shoulders of larger cities! You will often notice: There is a clear access protection concept here. City centers and fairgrounds are cordoned off according to the onion principle.
But what is meant by this? The individual areas are divided into different security zones. Depending on the zone and the barrier concept, different barrier systems are used. For example, the closer to the festival operations, the more important are barriers with good personnel permeability, low penetration depth and passage options for emergency vehicles and deliveries.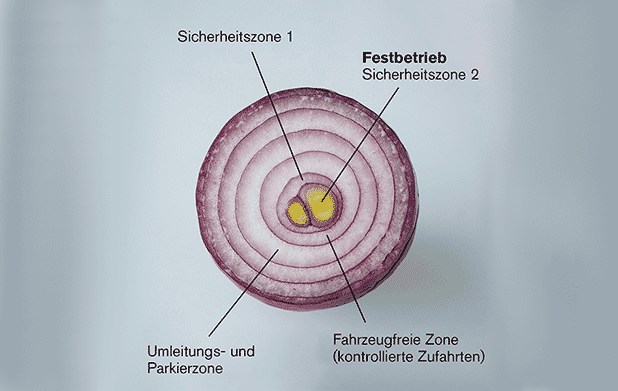 Barrier systems overview
Is there a barrier that can withstand all requirements? In our opinion: no. Because all available barriers on the market were developed for a very specific application. They differ according to:
Impact load
Penetration depth
Permeability (flow of people, accessibility)
Flexibility (movable, controlled passage)
Operability (manual, automatic)
Logistics concept
Therefore, large cities such as Berlin, Munich or Zurich rely on a combination of different systems for terror protection.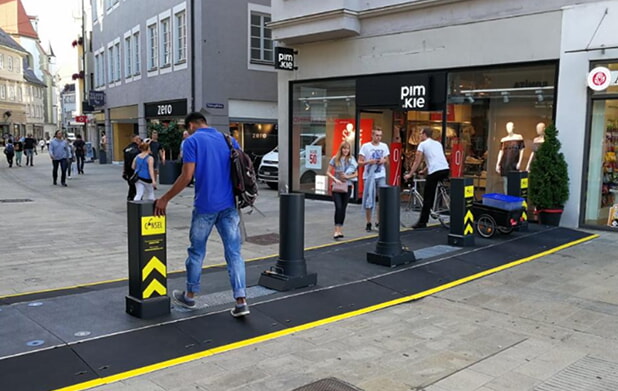 Safety zone before protection zone
Even the most effective barrier cannot protect if it is used incorrectly. Every mobile barrier shifts between 6 and 50 meters after an impact (depending on the penetration depth tested).
Therefore, it is mandatory to plan a safety zone. If the barrier is located too close to the festivities (safety zone), it will push directly into the crowd in the event of an impact.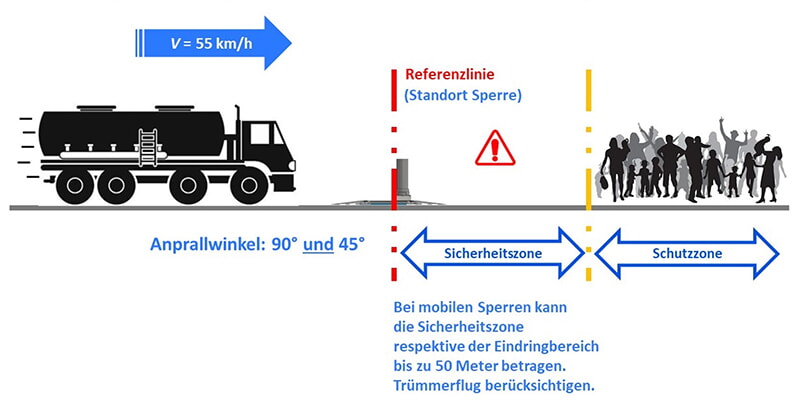 Alternative access protection systems in a practical test
Products
Mobile and stationary barrier systems