10 reasons for ARMIS ONE
Here are 10 compelling reasons why our mobile vehicle barrier is a great idea
Not all vehicle barriers are the same. In this article, we have listed the 10 reasons that speak for ARMIS ONE.
In addition, you can find out about the selection criteria when purchasing a vehicle barrier.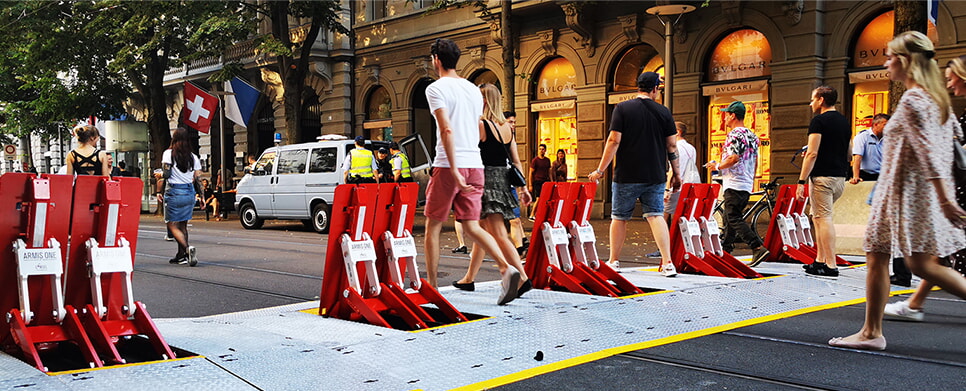 Reason #1: Low penetration depth – peak value for mobile vehicle barriers.
How far does a mobile vehicle barrier move in the event of a collision? What safety distance from the event location must be maintained? These questions are crucial when using a mobile vehicle barrier. The international standards IWA, PAS or ASTM only specify the maximum distance the barrier may shift. If the barrier remains stationary within this distance, the test is considered passed. The barrier is certified. That's why the penetration depths of mobile vehicle barriers on the market vary widely. Some move only a few meters, others towards 30 meters.
Penetration depth is decisive for protective effect
If mobile vehicle barriers penetrate towards 20 meters, a safety zone of at least 25 meters must be set up behind the barrier. Food and sales stands may therefore only be set up after this zone. For city festivals or Christmas markets with tight spaces, this is practically impossible to realize. Therefore, when choosing mobile vehicle barriers, be sure to pay attention to the penetration depth. You will find this on the manufacturer's test certificate.
ARMIS ONE with penetration depth of 6.6 meters top class throughout Europe
In the field of manually folding, mobile vehicle barriers, ARMIS ONE is the European leader. The advantages of the low penetration depth are obvious:
reduced safety zone
can also be used in confined spaces
Reason #2: Manually foldable barrier segments
Can you protect festival visitors from driving amok reliably or can you allow controlled passage? One does not exclude the other! With ARMIS ONE, we have succeeded in developing mobile vehicle barriers with manually foldable segments.  If access is required for emergency vehicles or deliveries, the barrier segments can be unlocked and lowered manually. This creates a passageway of 3 meters or any width – depending on the number of lowered elements. This is also practical outside of festival operations. In this way, entire streets can be opened to traffic between the actual festival operations.
Solid construction for maximum protection
Folding barrier segments require a specially solid construction so that they can absorb the impact energy in the event of a collision. For this reason, the ARMIS ONE barrier segments are made of special steel. Despite their relatively low weight, the barrier elements thus offer reliable protection.
Reason #3: Mobility and flexibility
Mobility and flexibility are crucial for the use of mobile vehicle barriers. If the barrier system is modular, it can be used for different purposes and regardless of location. This eliminates the need to procure different systems.
ARMIS ONE mobile vehicle barriers can be used anywhere. Regardless of ground conditions or barrier width. The individual barrier modules are simply placed on the ground with forklift trucks or small cranes – without any other fixed ground connections. The individual modules can then be connected to form a "chain" of any length. This increases effectiveness and also offers maximum flexibility. This means that both wide streets and small alleys can be effectively cordoned off.
Barrier module and separate ramps
ARMIS ONE consists of a barrier module and six separate ramps. This enables different applications. For example, if a street is to be blocked off without access, the ramps can be omitted. This reduces the installation effort, but also the protection effect.
Reason #4: Optimal flow of people without restricting visibility
For large-scale events and smaller events with a high number of people, an optimal flow of people and thus a rapid escape is enormously important. In the event of panic or evacuation, visitors must be able to leave the premises quickly and without hindrance. If visibility is restricted by large barrier elements, visitors may feel trapped and panic may result. A restricted view also leads to the fact that directly affected persons perceive the attacks with a delay. It is then already too late to escape.
ARMIS ONE meets the standards of escape route widths. With a distance of 1.20 meters between the barrier elements, an optimal flow of people is ensured. Escape routes as well as the view into the area to be protected remain unobstructed. The barrier elements can also be completely folded down in just a few seconds, so that the entire barrier width can be passed unhindered.
Reason #5: Certified to IWA 14-1 and ASTM F2656.
Mobile vehicle barriers are certified to international standards. ARMIS ONE achieved certification to the following standards in April 2019:
IWA 14-1:2013
IWA 14-2013 Blocker V/7200[N2B]/48/90:6.6
Penetration depth: 6.6 meters
ASTM F2656
F2656F2656M – 18a
Penetration class: P2
Reason #6: Quick set-up and dismantling
Secure a nine-meter wide road with mobile vehicle barriers in 30 minutes? No problem for ARMIS ONE! The individual elements are placed on the ground with a forklift or small crane – without any ground connection. Special connectors can be used to connect the barrier elements to each other, which further increases their effectiveness. Put the ramps in place and you're done!  Personnel used: one crane operator and two workers.
Reason #7: Clever logistics concept
Large barrier elements with a small footprint? Exactly! ARMIS ONE has been designed so that all accessories such as connecting elements, cover plates and tools can be stowed inside the barrier. In addition, both the barrier elements and the ramps can be stacked individually.
Heavy-duty pallets for storage and transport
Heavy-duty pallets specially designed for ARMIS ONE allow clean and transport-safe stacking. Since the heavy-duty pallets can also be stacked among each other, the required storage space is reduced to a minimum. The pallets can be lifted on both sides with forklifts or pallet trucks.
Reason #8: Mobile vehicle barriers with accessibility.
ARMIS ONE was developed in compliance with international accessibility standards.
With a crossing height of only 110mm and 1.20 meter distance between the barrier segments, even people with impairments can easily cross the barrier independently with a wheelchair.
Reason #9: Supervision-free
ARMIS ONE does not require security personnel when open or closed. The barrier can be secured so that it cannot be manipulated by unauthorized persons.
Less personnel – lower costs!
This not only saves personnel but also has a positive financial effect!
Reason #10: Largely maintenance-free
Unlike automatic mobile vehicle barriers, ARMIS ONE does not require regular maintenance. The robust design and manual operation guarantee long, trouble-free operation. After intensive usage cycles or in the event of severe weather conditions, it may be beneficial to clean and relubricate the moving parts.