Barrier posts for indoor use? But certainly!
When people think of barrier posts, they usually think of posts in the street area or for demarcation in public spaces.
Protect indoor areas with posts
However, posts also have their raison d'être in indoor areas: Whether in shopping malls at escalators or in hospitals, rehabilitation centers or retirement homes – a stair guard with posts protects against falls.
Further references
You would like to learn more about our numerous projects
and references?
We will be happy to provide you with information upon request.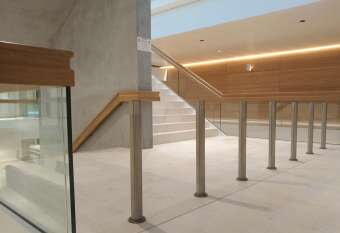 Free escape routes thanks to QUIVO stair guards
For people in wheelchairs or with walking aids, stairs are a permanent source of danger. This is also the case at the SUVA rehabilitation clinic in Bellikon. Thanks to the installation of QUIVO barrier posts, the staircases of the rehabilitation clinic are now secured according to the latest standards. And this without impairing the escape routes or the usual use of the stairs. This is because the QUIVO stair protection can be removed from the ground sleeve and locked aside in the resting sleeve without any further aids if required.
Due to the low installation depth of just 6 cm and the flat, locked design, the QUIVO fall protection can be implemented almost anywhere. Also retrofitted.